Board Member – CEO, SLREN, (Secretary)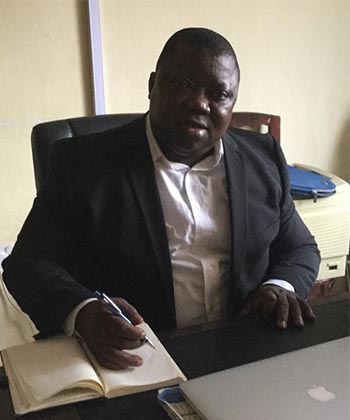 THOMAS PHILIP SONGU is the Director of Information and Communication Technology (ICT), Njala University, Sierra Leone. He is also the Regional Quality Infrastructure Expert (ICT) for the United Nations Industrial Organisation (UNIDO) under the West Africa Competitiveness and Quality Infrastructure Project (WACQIP). Thomas is a PhD reader in Information Technology at Njala University. His research topic focuses on leveraging ICT in development to improve quality education and research capacities in developing countries. Mr Songu also holds a Master degree of Science (MSc.) in Information Systems Management, from University College, London, United Kingdom, and a Bachelor of Science degree (BSc.) in Education with major in Mathematics and minor in Economics from Njala University.
Mr Songu is a seasoned Information Technology professional with over 20+ years implementation experience in strategic management of ICTs spanning the Education, Finance, Media, Defence, Telecommunications and Mining industries at national and international levels. Thomas is certified in Information Systems Auditor, Quality Management, IT Service Management and PRINCE-2 Project Management practitioner. He is a member of reputable professional bodies; a founder Member of the Chartered Quality Institute (IQA), United Kingdom of Great Britain and Northern Ireland, member of the British Computer Society (BCS), member of the Association of Project Managers (APM) and the Information Technology Service Management Forum (ITSMF).
As the Director of ICT at Njala University, Thomas have successfully represented and/or delivered high-profile projects on behalf of the university and the country, including but not limited to the establishment of Njala University Radio Station; establishment of fiber optic Internet points of presence on all campuses of tertiary institutions, formation of the Sierra Leone Research & Education Network (SLREN) to promote connectivity to regional and global research and education networks; coordination of the Strategic Partnership for Higher Education Innovation and Reform (SPHEIR) project to transform the higher education landscape in Sierra Leone, fully participated in the development of the National Innovation and Digital Strategy (NIDS) in partnership with the Directorate of Science, Technology and Innovation (DSTI); coordination of the National Drone Project and the establishment of Innovation Lab in Njala University to name but a few. Mr Songu is currently serving on various University Committees, including the Planning and Quality Assurance, Strategic Plan, Research and Development, Congregation Fundraising and Publicity. Thomas is also serving as the Public Relations Officer of Njala University Alumni Association (NUAA).
Before his appointment as ICT Director, Thomas Songu has worked as ICT Expert, through the International Organization for Migration (IOM) funded programme in the area of ICT Capacity Building in tertiary education for Sierra Leone. He has also previously worked as ICT Consultant for leading global organisations, including the UK Home Office, Computer Sciences Corporation (CSC), Siemens IT Solutions and Services, T-Systems UK, Barclays Global Investors, Credit Suisse, Abu Dhabi Investment Authority (ADIA), etc. mainly in the UK, USA, France, Spain, Switzerland, Germany, Portugal, the Netherlands, and the United Arab Emirates (UAE).
Thomas is married and blessed with two children